CONSULTANCY Strategic Brand Management
TRAINING Brand Workshops and Courses
INSIGHTS Speaking, News Media, Opinions
PAUL HITCHENS
Paul is an Author, Speaker, Brand Coach and Founder of Verve:
Paul is a Chartered Marketer and CIM Course Director with a wealth of experience gained in the creative industries. He advises clients on their brands, gives keynote talks and hosts brand workshops.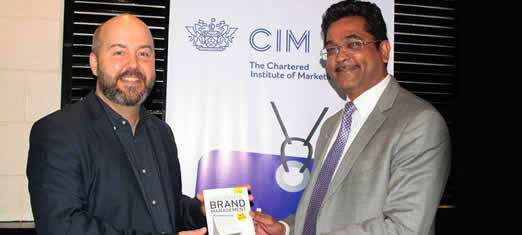 Paul is pictured above presenting Chris Diaz, Marketing Director of Kenya Airways with a copy of 'Successful Brand Management' following the CIM 'Brand Masterclass' in Nairobi 2015.
Paul is Verve's Creative Director and is a regular speaker on branding issues at industry events. He has written and presents the CIM Brand Masterclass and a range of Branding Courses for the Institute.

Paul has as been interviewed on BBC News, ITV London Tonight, Channel 5 News and BBC Radio. He frequently contributes branding articles for business publications and has been quoted by the National Press - The Daily Telegraph, The Independent and The Scotsman.
LISTEN MP3 > BBC London - July 2012 - Vanessa Feltz - 'London 2012 Olympics' brand following reports of over zealous policing of the brand by local authorities. Paul discussed with Vanessa what it is that makes a 'Perfect Brand'.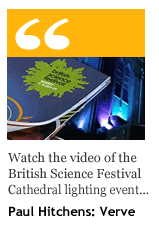 Paul is the co-author of 'Successful Brand Management In A Week' and Create the Perfect Brand'. He studied Graphic Design at the London College of Printing and began his creative career in advertising, where he won awards for his work.
Paul previously worked for the international brand consultancy 'Wolff Olins' on the General Motors (GM) brands of Vauxhall, Saab, Opel and North American Vehicles. He brings this depth of experience working with global brands to Verve's clients.
Paul has worked with the Design Council on their 'Designing Demand' programme and helped to launch the British Science Festival at Guildford with a new External Lighting Scheme for the Cathedral.Paul spoke to the University of Surrey about the illuminations and the support provided by branding client Oldham Lighting. [VIDEO]
For more information about Paul's experience and work ...

energy enthusiasm dynamism Verve for brands - - -© Verve Interactive Ltd 1996-2016

HOME + JULIA HITCHENS+ PAUL HITCHENS+ ABOUT VERVE+ THE BOOK + NEWS+ CONTACT US