CONSULTANCY Strategic Brand Management
TRAINING Brand Workshops and Courses
INSIGHTS Speaking, News Media, Opinions
JULIA HITCHENS
Julia is an Author, Speaker, Brand Coach and Founder of Verve:
Julia founded Verve in 1996 with a wealth of experience gained in the creative industries, marketing and advertising. She is a Chartered Marketer and Mentor for the University of Greenwich.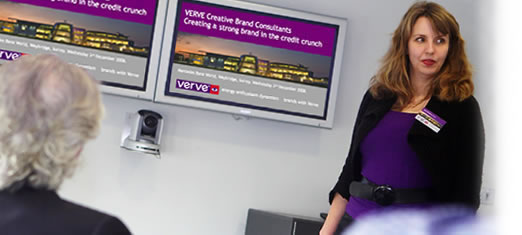 Julia is Verve's Research & Development Director. She is passionate about meaning, purpose and values. Julia aims to balance rational 'IQ' and emotional 'EQ' intelligence, to provide strategic, creative and innovative solutions. The creative industries thrive on instinct, intuition and emotion.
"Have the courage to follow your heart and intuition.
They somehow already know what you truly want to become. Everything else is secondary."
Steve Jobs
SInce 1996, she has advised clients about their brand strategy from diverse sectors including: Local Government, Oil, Hard Landscaping, IT and Lighting. Julia has worked on the Design Council's 'Designing Demand' programme.
Julia has hosted seminars on the importance of a strong brand and has worked with the University of the Creative Arts. She is the co-author of two best selling guidebooks to branding 'Successful Brand Management In A Week' and Create the Perfect Brand - Teach Yourself', both published by Hodder.
"Imagination is more important than knowledge.
For knowledge is limited to all we now know and understand,
while imagination embraces the entire world,
and all there ever will be to know and understand."
Albert Einstein
After graduating in Business Studies at the University of Greenwich, Julia qualified as a Chartered Marketer with the Chartered Institute of Marketing. She began her career in Marketing and later worked for the US advertising agency Lintas as an Account Manager. Julia worked on the MG Rover Account and the sales promotion launch for the MGF Sportscar. She has organised integrated campaigns for clients including Samsung, Telewest and ICL.
For more information about Julia's experience and work ...

energy enthusiasm dynamism Verve for brands - - -© Verve Interactive Ltd 1996-2016

HOME + JULIA HITCHENS+ PAUL HITCHENS+ ABOUT VERVE+ THE BOOK + NEWS+ CONTACT US