CONSULTANCY Strategic Brand Management
TRAINING Brand Workshops and Courses
INSIGHTS Speaking, News Media, Opinions
ABOUT VERVE - CASE STUDIES

We have been helping organisations to realise their full brand potential since 1996. We believe a strong brand deserves a powerful identity to support its promise. Below are case studies of our work and the identities we created to support the brand ideas.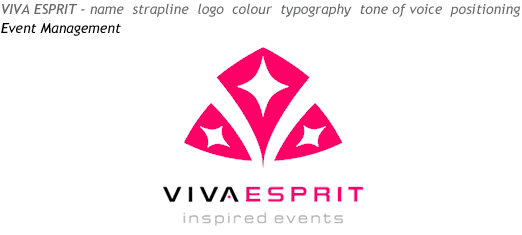 Take a roll-over through the icons in our portfolio of brand identities.


Brand by Verve MSI GLOBAL ALLIANCE WEBSITE
Giles Brake , Marketing Manager: "Paul is a highly competent brand consultant with a real eye for detail and consistency. He has done several re-brands for our company and his enthusiasm, experience and knowledge of branding, as well as his strategic vision, responsiveness and reliability make him very 'recommend-able' to anyone looking to hire a brand consultancy. Paul and Julia's company (Verve) makes valuable knowledge and experience gained from working with larger blue chip clients accessible to companies working on smaller budgets"
MSI is a global association of over 250 medium sized legal and accounting firms in more than 100 countries around the world. It has a unique multidisciplinary approach to serving its global clients. We worked with MSI to create a clear brand strategy and express this idea through the visual communication of the brand. We worked directly with MSI Chairman James Mendelssohn and Marketing Manager Giles Brake.

Brand by Verve CRETEANGLE WEBSITE
CreteAngle [Concrete Mixer Manufacturer]: Gavin Smith, CreteAngle Managing Director- "Taking part in Designing Demand has energised our business development and the confidence and motivation among our staff has been noticeably boosted ".
Design Council - Designing Demand Programme: We successfully pitched for the rebrand of this established manufacturing business with over 50 years history. Paul Hitchens, Verves Creative Director said "This is a fantastic British brand that needed to remind people what made them so special. CreteAngle products are the Land Rovers of the mixing world - highly durable, functional pieces of equipment".
We created a new Brand Strategy and implemented it through an exhibition stand, brochure and advertising. We even gave the product a new livery to reflect the new brand message.
[BUSINESS LINK CASE STUDY ]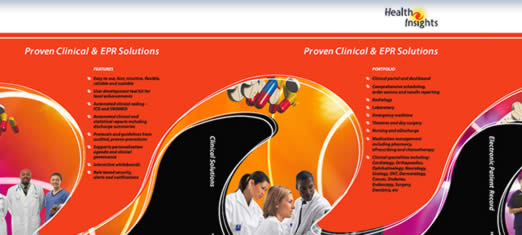 Brand by Verve HEALTH INSIGHTS WEBSITE
Health Insights is a "world class" comprehensive healthcare information system that services all aspects from clinical to administrative and financial. This international organisation has offices in Dubai, Cairo and Chertsey. We worked directly with the Management team to create a distinctive brand identity system for the healthcare sector. The identity has been implemented across print, exhibition display systems and online media.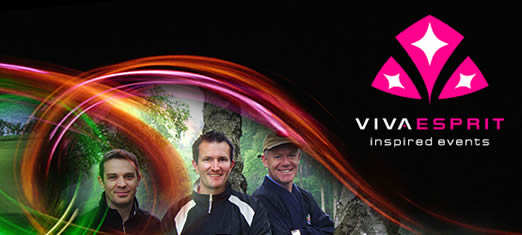 Brand by Verve VIVA ESPRIT WEBSITE
Paul Fenton, Managing Director, Viva Esprit: "We challenged Verve to design an eye catching new corporate identity. Paul & Julia paid detailed attention to our teams initial requirements and created a brand that embraces our unique company culture. We were delighted with their work which immediately played an important role in winning us new clients!"
Verve ran a Key Brand Criteria workshop to establish the brand strategy. The name Viva Esprit was created by Verve before evolving the Brand Identity. The new Viva Esprit brand was implemented by Verve through the marketing materials and website design.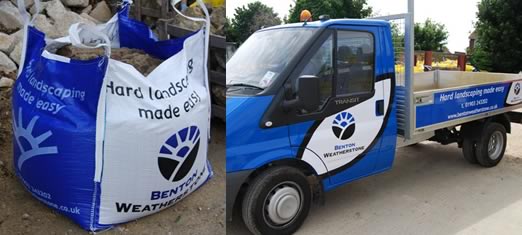 Brand by Verve BENTON WEATHERSTONE WEBSITE
Benton Weatherstone: A hard landscaping business based on the South Coast with a garden centre and fleet of delivery vehicles".
Benton Weatherstone: We have created a brand identity for Benton Weatherstone's and implemented the strategy across a fleet of vehicles, sales literature and advertising. The delivery bags are hard wearing and act as a durable advertisment for the brand. Work included the strapline 'hard landscaping made easy'. The brand is a family business with a long-standing reputation for quality.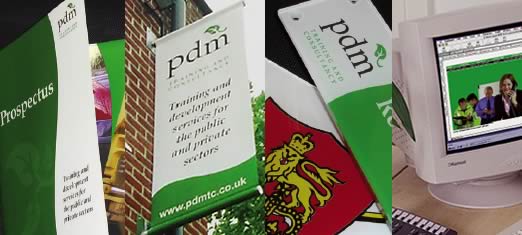 Brand by Verve PDM WEBSITE
PDM Training and Consultancy: PDM was originally founded by retired Army Officers to provide training and qualifications to soldiers that would enable them to translate their skills to civilian life.
PDM Training and Consultancy: PDM provide training and development services to the public and private sectors. We created PDM's Visual Identity and defined their Brand values. We created a Visual Strategy for PDM's divisional structure. This work was supported by the design of the following items- Website, Exhibition Stand, Course Information, Brochures, Signage, Advertising and Promotion.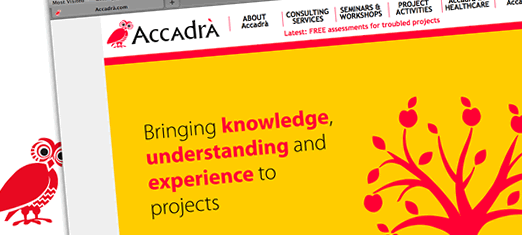 Brand by Verve ACCADRA WEBSITE
Accadrà - Project management: Accadrà is a consultancy specialising in health care services. The owl is the ancient symbol for Athena, Goddess of wisdom. Accadrà literally means it will be done!
Accadrà: Working with the founding partners we developed a new brand for healthcare project management. We implemented the concept through the design of the website, stationery and accompanying brochure. These items featured illustrations created in-house by Verve.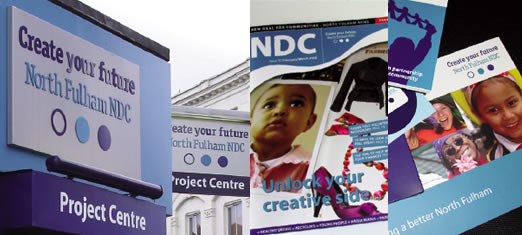 London Borough of Hammersmith and Fulham: Verve are highly experienced at working with local government and have worked with Woking Borough Council and healthcare and community projects for the London Borough of Hammersmith and Fulham.
North Fulham NDC: North Fulham NDC is part of the London Borough of Hammersmith and Fulham. It is a Government initiative to redevelop disadvantaged communities. Verve rebranded the NDC and produced guidelines for it's implemenation. We designed and delivered bespoke illuminated signs and building fascia for the visitor centre. We implemented the brand through the following items: Community Magazine, Annual Report, Exhibitions, Marketing Campaigns and Events.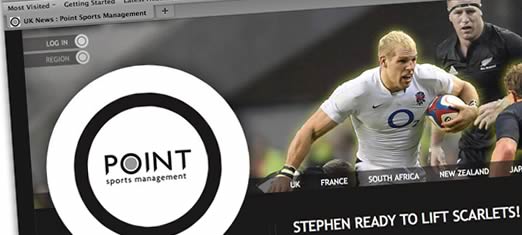 Point Sports Management: Setting the standard for the representation of elite athletes, coaches and management across the globe. The brief required a strong iconic brand that has since become recognised as a kite mark for quality.
Point Sports Management: Working with the founder Duncan Sandlant and his management team we developed a brand for a new benchmark in quality for Player Welfare. The brand included the refinement of the name and registration of internet domain name. The brand is international with offices in France, New Zealand, South Africa and Japan. We delivered corporate guidelines to facilitate the consistent implementation of the brand globally.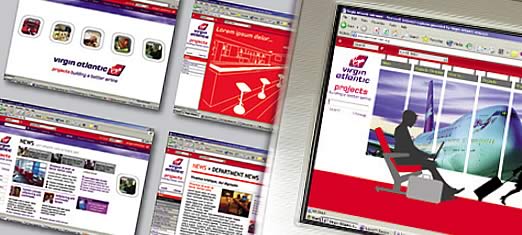 Virgin Atlantic: We worked with the Projects Division of Virgin Atlantic to create a sub-brand for the department and created an interface for their Intranet site. The designs reflected the divisions role and integrated with the Virgin Atlantic brand.
Virgin Atlantic - Projects Division: We worked closely with the Projects division to create an intuitive interface for their site on the Virgin Intranet. We presented concepts and the chosen theme was based on the airport departure lounge. The site includes a number of illustrations created in-house by Verve. Verve created the graphics for the divisions visual identifier - 'Projects - Building a better airline'.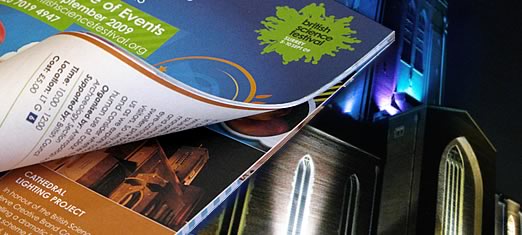 British Science Festival 2009: In 2009 we worked with the British Science Festival which was hosted at Guildford. We suggested installing a dramatic temporary new lighting scheme for Guildford Cathedral. This successful event became the opening ceremony for the festival.
Guildford Cathedral Lighting Project: Working with Oldham Lighting and Architectural Lighting specialists BDSP Partnership we delivered a landmark display to celebrate the events themes of creativity and innovation. Paul spoke to the University of Surrey about the illuminations and the Oldham Brand. [VIDEO]. The BBC recorded the event on the BBC Surrey website [SLIDES].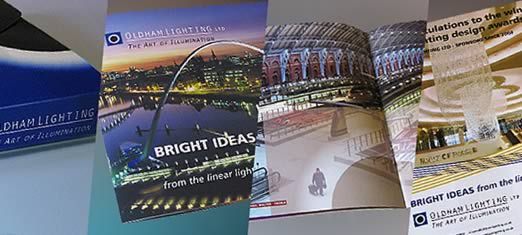 Oldham Lighting: Oldham are a global leader in linear lighting and can trace their business heritage back to the pioneering lighting techniques that produced neon signs.
Oldham Lighting: Working with the board of directors we developed a new brand strategy to integrate the new and existing products. Verve created a strapline 'the art of illumination' to summarise the way Oldham work closely with lighting Designers and Architects to realise a creative vision for a public space or building. Verve united the products with new names and themes. The cutting edge LED range was named Star-LED and the individual products under the range were named after stars - Mira, Rana, Vega and Zeta. The new brand strategy has been applied to - Marketing, PR, Literature, Folders, Advertising and Products.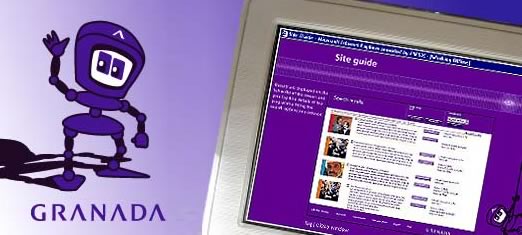 Granada Media: We have worked on various projects for Granada Media including the interface for the International Sales Extranet Site Guide, Search Engine and Recruitment.
International Sales: We created the interface and a mascot to aid users of the Granada Media international sales site. The friendly Robot figure was placed on accompanying marketing material to promote the service. He became a flexible brand mascot demonstrating how to use the service.
Attracting IT Professionals: We created a campaign using recognisable characters from the Granada archive of television. Helen Mirren's eyes (Prime Suspect) were used to entice IT professionals to seek further information through a banner campaign. This was backed up with a micro-Website.
The Granada Media Search Engine: The site uses Cybersword content management software to search the Granada Media archive for content. We designed the interface and gave it a theme. Granada has a wealth of famous detective characters. Using sleuths as a theme for a search engine was an appropriate metaphor for a service that helps users track down content.

energy enthusiasm dynamism Verve for brands - - -© Verve Interactive Ltd 1996-2016

HOME + JULIA HITCHENS+ PAUL HITCHENS+ ABOUT VERVE+ THE BOOK + NEWS+ CONTACT US